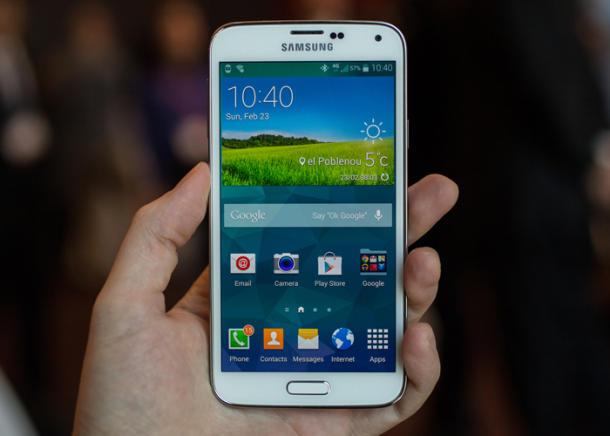 February 25, 2014 morning, Samsung held a new conference called "Unpacked 5" in 2014 Mobile World Congress , officially released the much-anticipated fifth-generation Galaxy S flagship phone : Samsung Galaxy S5. Samsung Galaxy S5 have made some improvements in the camera, screen and other hardware and power management , download and other functions and the new machine will be available worldwide on April 11 .
Support IP6 / 7 dustproof and waterproof and Various Colors
Samsung Galaxy S5 is not particularly revolutionary change in appearance , but due to new materials and surface textures and more vivid color ( white, gold, blue , dark blue ) , the visual effects , Galaxy S5 or cause fresh , stylish atmosphere is very rich.
In terms of design ,the biggest breakthrough is perhaps to support IP6 / 7 dustproof and waterproof
Camera strengthen
Samsung Galaxy S5 uses a 16 million pixel main camera , improved dynamic range HDR photo effects get more natural light and color of the photos
AF speed Galaxy S5 lens up 0.3 seconds , which maybe is the world's fastest mobile phone camera . The phone also supports the new selection focus, depth of field effects to simulate the blurred background .
In the camera options and menu design , the Samsung Galaxy S5 also made to improve and strengthen , users can more easily use this phone to take pictures , photo editing and photo sharing .
Adaptive screen
Samsung Galaxy S5 uses 5.1 -inch 1080P screen , Being compared to the previous generation,the screen size increased 0.1 inches while the resolution remains unchanged.
on the screen to facilitate ,the biggest improvement is that for the first time using the adaptive technology that automatically adjust the screen parameters in a variety of complex lighting conditions , providing a more comfortable visual effect.
Home key fingerprint identification
Samsung Galaxy S5 will become the third paragraph past year fingerprint recognition capabilities into mobile phone products. Its design is similar to the Apple iPhone 5s,making the sensor and Home seamlessly design and functionality. This design is not only more beautiful, but also very easy to use .
Focus is not on the hardware
it uses a 2.5GHz quad-core processor,has 2GB RAM memory, support for WiFi, Bluetooth 4.0, NFC, USB 3.0 and IR Remote.
If you need Samsung Galaxy S5 Screen Protector,Please contact Feyong Digital